The cars featured in this blog come in all shapes and sizes. Today, many of them are all considered 'iconic' or 'classic' vehicles, but some of them, such as the Piaggio Ape or the Morris Minor Traveller – had the most humble of origins and only attained their status later on in life. But not so much for the Packard 120: this is a car that would have attracted just as many admiring glances when bought factory-fresh as it does today.
And no wonder! With its tall grille, conical headlights, proud wheel arches, whitewall tyres and running boards, this is a motor that just screams 1930s glamour: you can imagine Bette Davis or Clark Gable stepping gracefully out of a Packard One-Twenty onto the red carpet at the Oscars ceremony. Or perhaps you picture James Cagney and Edward G Robinson in a high-speed car chase through bootlegging country, Tommy guns blazing. Either way, the Packard One-Twenty is as fine a motoring icon the 1930s has ever produced.
History / Origins
The Packard One-Twenty was born in 1935, as a response to the Great Depression. Packard had already built a fine reputation as a builder of luxury motor vehicles and wanted to hold on to it. So when Rolls-Royce introduced the Rolls-Royce 20, a slightly more affordable version of the Silver Ghost and Phantom, Packard responded with the One-Twenty, which was similarly intended to bring Packard luxury at a more reasonable price.
The first-generation One-Twenty, manufactured between 1935 and 1937, was available in two-door coupé, convertible and sedan models, or as a four-door sedan, with prices ranging from $980 to $1,095 (adjusted for inflation, this comes to roughly $20,468.67 in today's value). It originally had a 4.2L straight-eight engine generating 110bhp, though this was then increased to a 4.6L/120bhp engine which gave it a top speed of 85mph. Just over 130,000 One-Twenties were produced in those first three years.
In 1938, Packard concentrated on its Packard Six and Packard Eight cars, but in 1939 a second-generation One-Twenty was produced. Again, available in a range of configurations – including a station wagon and a limousine – the second-gen car retailed for between $1,099 and $1,856, and boasted a number of technical improvements, adding a fifth shock absorber, a steering wheel-mounted column shifter as opposed to the first generation's floor shifter and, from 1939 onwards, an optional four-speed transmission.
However, sales were not as high as they had been in previous years and Packard opted once more to concentrate on its other lines. The last One-Twenty rolled off the production line in early 1942 (ie, the 1941 model year), and was the 175,027th of its kind.
The Car's The Star
For obvious reasons, the Packard One-Twenty has no illustrious racing history to boast of, but it's made a lot of TV and movie appearances. The Internet Movie Car Database lists over 120 of them, including cameos in 'Murder She Wrote', 'Wonder Woman', 1953's 'How To Marry A Millionnaire' (with Marilyn Monroe, Betty Grable and Lauren Bacall) and 1973 Blaxploitation classic 'Black Caesar', as well as, unsurprisingly, rather a lot of 1930s and 1940s gangster movies.
On a more macabre note, King Leopold III was driving a 1935 Packard One-Twenty convertible when, on August 29 that year, he crashed into a tree, killing his queen, Astrid Of Sweden. Tragically, she was just 29 years old.
Want One?
As we said at the beginning, the Packard One-Twenty was never a cheap, everyman vehicle to start with, and it certainly isn't today! As ever with such older cars, prices vary depending on model, year, mileage and condition, but if you're looking for a ballpark figure, be prepared to spend somewhere in the region of £50,000-£60,000.
For that money, of course, you could get yourself brand new top-of-the-range Audi or BMW, and probably have some pocket money left over. But however smooth, luxurious and fuel-efficient a ride that brand new Audi or Beamer might be, it's never, ever going to make you feel like you've just joined the Ant Hill Mob. And that's a feeling that's surely priceless…
Here's a Packard One-Twenty shipped by us at Autoshippers to Florida, USA.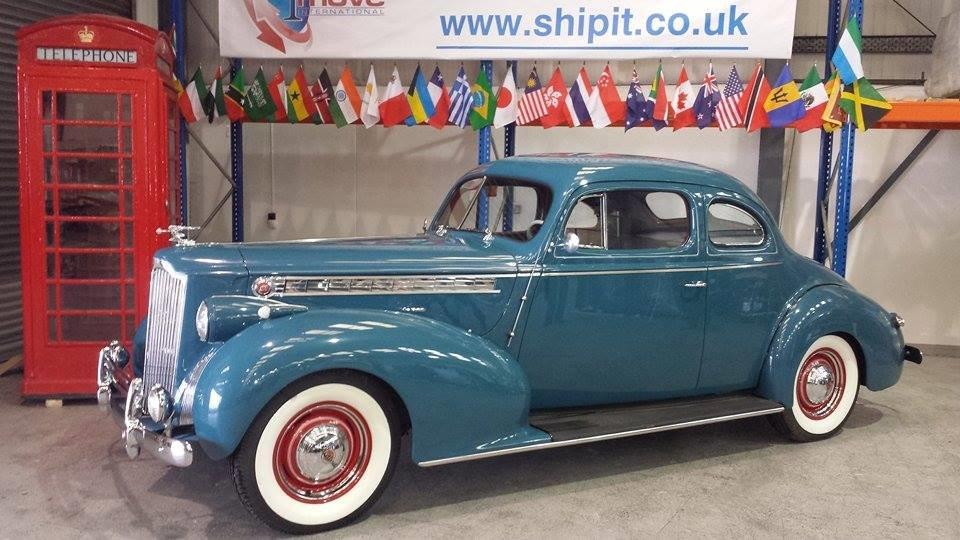 We hope you enjoyed our Closer Look at the Packard One-Twenty! Keep an eye out for more on our blog or check out the rest of our interesting shipments series. And of course, if you're shipping a car (whether it be a classic or family car) get in touch today or get a quick quote here.