Just in case this blog had given you the wrong impression, we ship all kinds of cars here at AutoShippers, not just vintage models! In fact, the motors we move overseas range from 100-year-old classics to factory-fresh vehicles just off the production line, and from much-loved family runabouts to the most high-end machines… such as, for instance, the Ferrari 488 Spider that recently passed through our hands.
History and build
Introduced in 2015, the 488 is Ferrari's current V8 roadster, so obviously it doesn't have a lot of history in its own right. It does, though, carry one heck of a pedigree, being the latest in a long line of V8 mid-engined Ferraris running back through the 458, 430, 360 and so on, all the way to the Ferrari 308 (1975-1985).
As with its long line of progenitors, the 488 was available from the get-go in standard hard-top (GTB) and convertible (Spider) variants. In the case of the Spider, the 'convertible' part comes in the form of a retractable hardtop that tucks back into the rear body, a design that was introduced on the 458 to replace the soft tops on earlier Spider/GTS models.
In terms of its exterior styling, the 488 is very similar in appearance to the 458 it superseded, so the principal differences lie in the mechanics. Most importantly, it's powered by a twin-turbocharged 3.9L V8 engine, rather than the naturally aspirated 4.5L V8 found in the 458, with the turbines powering its two Honeywell turbochargers made from the same titanium-aluminium alloy used in jet engines. It also features improved carbon ceramic brakes, which are said to reduced stopping distance by as much as nine per cent. Like its predecessor, the 488 features a dual-clutch, seven-speed F1 gearbox built by transmission specialists Magna PT (formerly Getrag).
That's not to say the body wasn't changed at all, though. Bodywork tweaks compared to the 458 include new five-spoke alloy wheels, as well as a new front double splitter, a redesigned rear spoiler and scalloped side air intakes, all of which are said to increase downforce by an impressive 50 per cent compared, while reducing aerodynamic drag. In other words, to boost speed while providing better grip on the road.
Performance and reception
And speaking of speed… the 488 Spider will take you from 0-100km/h (0-62mph) in just three seconds, while its top speed is quoted as 325 km/h (202 mph). So it should be nippy enough for most drivers' needs! And the car has been generally very well received by the auto press, earning itself 5/5 in AutoExpress, 4.5/5 in AutoCar, 9/10 in Top Gear and 4/5 in What Car?.
Reviewers praised its improved handling and smooth acceleration, though not all were fans of the interior layout. Like the 458, whose interior was designed with input from Michael Schumacher, the 488 puts many of the controls on the steering wheel itself, rather than on separate switches and paddles. The idea here is to mimic the internal layout of a Formula 1 car, but What Car?, for instance, found this "not particularly friendly for road driving".
How to Get Your Hands on One..
We're guessing that if you've already bothered to read this far, then "want one?" might be something of a silly question!
Unfortunately, most of us will just have to carry on wanting, because the Ferrari 488 Spyder starts at £217,219, and – thanks to an impressive array of colour, trim and internal specification options – could cost closer to £300,000. So it's far from being a car for the everyman/woman – though if you're baulking at the price, the recently rebooted Magnum, PI suggests that moving to Hawaii and setting yourself up as a private investigator might help!
The end of the road
As we said at the beginning, the 488 is Ferrari's current V8 roadster, and still on sale – check Ferrari's own website if you don't believe us! It is, however, due to be phased out later this year, to be replaced by the F8 Tributo. When we get our hands on one of those, we'll be sure to let you know!
We've had the pleasure of shipping a Ferrari 488 Spider via Air Freight to Hong Kong, pictured below.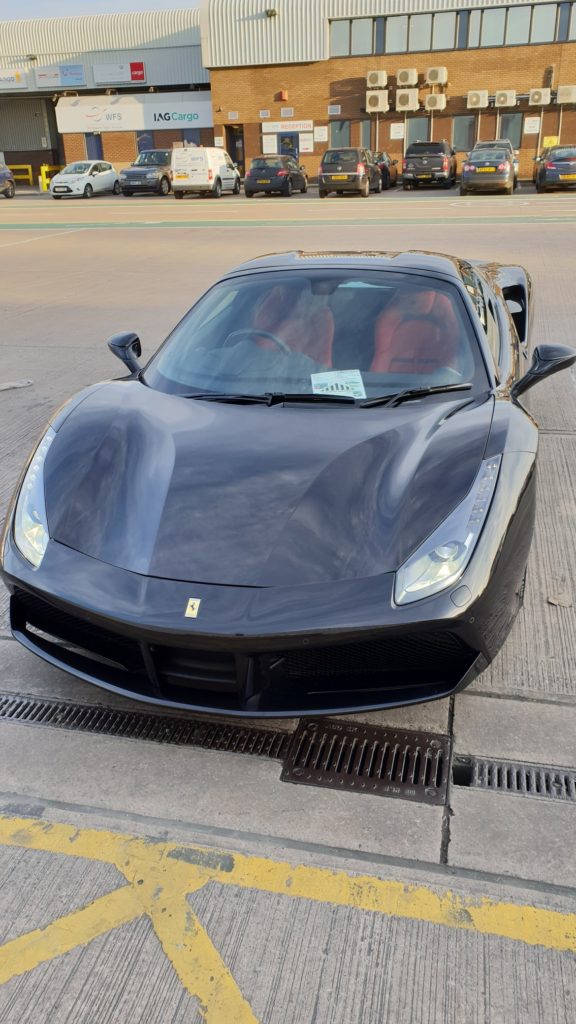 We hope you enjoyed our Closer Look at the Ferrari 488 Spider! Keep an eye out for more on our blog or check out the rest of our interesting shipments series. And of course, if you're shipping a car (whether it be a classic or family car) get in touch today or get a quick quote here.