On 22 August 1962, French president Charles de Gaulle's motorcade was attacked just outside Paris by a group led by Algerian War veteran Jean-Marie Bastien-Thiry. But despite coming under heavy machine gun fire and having all four tires blown out, the President still managed to drive away to safety: you may remember the scene because it was recreated in 1973 thriller The Day Of The Jackal. It's also the most famous incident in the long and exalted history of the car in question – the Citroen DS 21.
That 1973 movie scene is just one of over 2,700 screen appearances by this French sports car. The full list, which can be found at the Internet Movie Cars Database, is testament to just how iconic a vehicle it really is. Close your eyes, think of a 60s sports car and there's a good chance the mental picture you've just conjured up bears a remarkable resemblance to the DS 21!
History
The DS 21 is merely the best known of a family of Citroën cars that also includes the DS19, DS 20 and DS 23. The first of these, the DS 19, debuted at the Paris Motor Show on 5 October 1955: by the time the show ended 10 days later, over 80,000 DS's had already been ordered, setting a car show record that wasn't broken until the Tesla Model 3 launched in 2016.
The DS 19 was soon joined by its sister models, with the only real difference between them being engine size, which ranged from 1,911cc for the DS 19 to 2,347cc for the DS 23, with the DS 21 coming in at 2,175cc. Otherwise, all four cars boasted the same hydropneumatic suspension, radial tires, power steering and semi-automatic transmission. The name DS is actually a pun – pronounced with a French accent it sounds like "déesse", or goddess – while the car owes its sleek, streamlined styling to the era of its birth. This was the start of the Space Race, and the (then) futuristic look of the DS range was intended to capture that zeitgeist in automobile form.
It certainly captured the public's imagination, with nearly 1.5 million DS's sold before production ceased in 1975. That figure does, however, include the ID 19 (1957-69), D Special (1970-75) and D Super (1970-75) variants: these were more affordable versions that had the same engine as the flagship car, but fewer of the hi-tech innovations (such as the hydropneumatic suspension and power steering) and a less luxurious cabin.
In 1965, the luxury DS Pallas joined the range, while an estate version was manufactured from 1958-1963 and a two-door cabriolet from 1958-1973. Later Series 2 (1962) and Series 3 (1967) models introduced a redesigned, more aerodynamically-efficient nose and directional headlights, respectively.
How to Get Your Hands on One
There were, as stated above, plenty of DS's knocking around, but that doesn't mean you're likely to find one cheap! The least expensive we could find, looking around various specialist sites, had an asking price of just over £15,000, while the dearest was a 1972 DS 23 cabriolet, on sale for a whopping £68,621.
If you want to take the plunge, then rust is the main problem to look out for, but be aware also that the suspension system in pre-1967 models used a different fluid (vegetable- rather than mineral oil-based) from later cars, and if you buy one with the older system you'll need to replace the fluid every 18 months or so. Partly as a result of this, later cars tend to command a higher price. Injected models are also worth more than carburetted models, while generally speaking the cabriolets are the most expensive, followed by the estate versions (due to the relatively low numbers produced) and then the standard four-door saloons.
Oh, and if you see a black one, don't be surprised if you have to pay a little more! The French police and civil authorities used black DS 21's: as a result, this colourway proved less popular with the public, and hence is harder to find today. Another rare variant is the Reactor, a US car built by Gene Winfield that put a turbocharged 180bhp Corvair engine inside a DS 21 chassis.
One of those will set you back frankly silly money, but then you'll be driving around in a car that's been seen in Star Trek, Batman (driven by Eartha Kitt as Catwoman) and Bewitched. And hey, if you ever get shot at outside Paris, it just might save your life, too…
We've had the pleasure of shipping a rather special DS 21 to Houston, USA. This particular car has appeared in the award-winning Netflix series, The Crown, on several occasions.
The owner first got to take a ride in one of these during a school project in Cannes, France, when he was only 12 years old. It had been his life-long dream to own one ever since. He described his ride as a child as feeling like "I was riding on a cushion of air".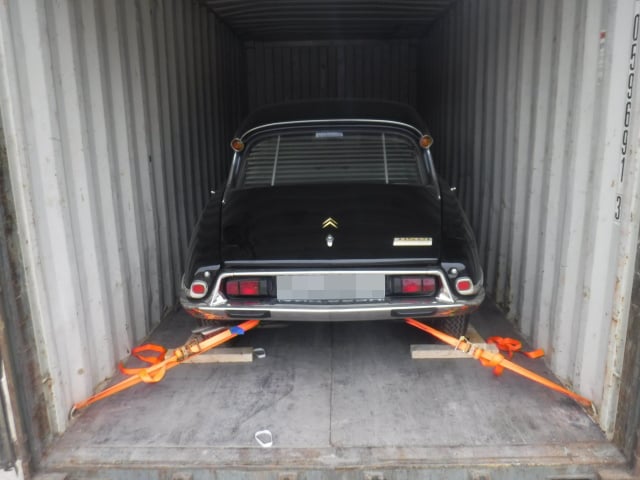 We hope you enjoyed our Closer Look at the Citroen DS 21! Keep an eye out for more on our blog or check out the rest of our interesting shipments series. And of course, if you're shipping a car (whether it be a classic or family car) get in touch today or get a quick quote here.