They say the mark of a true classic is that it never goes out of style. In the case of the AC Cobra, never mind style – it's never even truly gone out of production!
It's not hard to see why – you just have to look at the thing. With its elegant low, streamlined profile and sensual curves, this is a car you certainly don't have to be a petrolhead to appreciate. If you are a petrolhead, on the other hand, there's also the small matter of a powerful Ford V8 engine under the hood. So the AC Cobra really does have something for everyone… although it's far from everyone that can afford one!
History
The Cobra was a joint venture between the UK's AC Cars, and the USA's Shelby American Inc, which is why it's known by different names on different sides of the pond. The original Cobra was essentially an AC Ace two-seater roadster that was modified to take Ford's 4.3L Windsor V8 engine, at the behest of designer (and former racing driver) Carroll Shelby.
The first production models were built in 1962, with AC constructing the body, then shipping the cars to Shelby in the US, where the engine and gearbox were installed. Only 126 of this Mk I model were built, with the last 51 boasting a larger (4.7L) engine, before the Mk II model, now with rack-and-pinion steering, replaced it in 1963. 528 Mark II's were built and sold in the years 1963-1965, before the Mark III arrived.
The Mark III now boasted a 427cu in (7L) engine, and hence became known colloquially as the Cobra 427. Thanks to its combination of a powerful engine and a lightweight body, the Cobra 427 had a top speed of 164mph, and it was at this point that the Cobra began to acquire a fearsome racing reputation, with super-limited Dragon Snake and Slalom Snake models built specifically for drag racing and autocross, respectively.
Production stopped in 1968 – but the story doesn't end there. Over the years, various manufacturers have offered 'continuation' (replica) cars, notably AutoKraft who, in 1986, purchased AC Cars and produced a Mk IV version. Several DIY kit car versions have also been available over the years. In 2002, a new company called AC Motor Holdings was set up in Malta, and has since produced several limited-run Cobra-like cars, including the AC Mrk II Classic (2012) and the AC Mrk I 260 Legacy Edition.
And just to put the cherry on the cake, in 2017 the AC Cobra 378 went on sale, now built in South Africa and packing a 6.2L General Motors (rather than Ford) engine. Oh, and costing a mere £90,000… but at least the reviews have been favourable!
The above is a mere potted history, however. If you want more detail, then Silodrome Magazine will fill you in.
How to Get Your Hands on One
The Cobra 427 is quite simply one of the most expensive and sought-after classic cars in existence, mostly because there are so few of them around. Not only were just 348 ever produced in the first place, but many 427 owners, unused to the power, had an unfortunate habit of crashing them!
Accordingly, an original Cobra 427 in immaculate condition could set you back a cool $1M, while the very first Cobra ever built, which resides at the Shelby Museum in Las Vegas, is quite possibly the single most valuable car on earth, valued at c.$25M. Not that they have any intention of selling it.
Other Cobra models and the various replicas are available for considerably less – though you're still unlikely to get much change out of £70K or so, and could pay a lot more. Alternatively, you can experience the thrill of a Cobra ride for yourself for a mere £50-100, if you book yourself a 'Cobra experience' from companies like Red Letter Days or Into The Blue.
Tempted? Then let's finish with a little video to get you in the mood. Turn up your sound and enjoy…
Lastly, here's an AC Cobra shipped to Dubai by us at Autoshippers: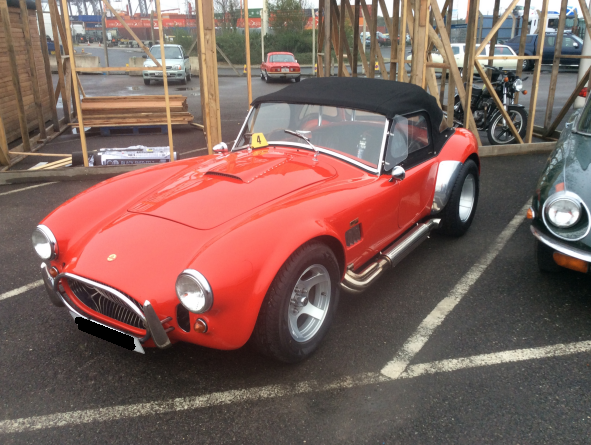 We hope you enjoyed our Closer Look at the AC Cobra! Keep an eye out for more on our blog or check out the rest of our interesting shipments series. And of course, if you're shipping a car (whether it be a classic or family car) get in touch today or get a quick quote here.