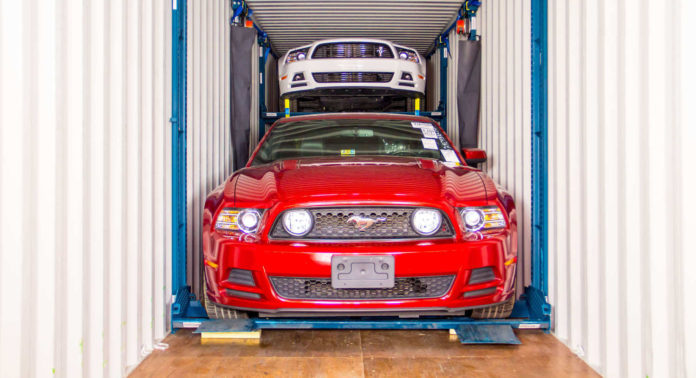 Moving overseas is exciting, but there are a lot of steps involved with transporting your life from the UK to a new country.
Packing small items like clothes and kitchenware is one thing, but preparing to ship larger items like your car may feel a bit more daunting. However, with the right steps in place, shipping vehicles overseas can also be a simple process. International car shipping companies offer plenty of support to help you ship a car abroad safely and quickly.
At Autoshippers, we have decades of experience shipping cars abroad. We offer international RoRo car shipping to many ports around the world. We also provide car shipping by container for those who prefer additional protection on this journey. No matter which method you choose for shipping a car abroad, we suggest you take a few steps to ensure the process runs as smoothly as possible.
Below we offer our tips for preparing your car to ship abroad. As long as you work with a reliable car shipping company and follow the steps below, your experience shipping your vehicle overseas will be easy and straightforward.
Step One: Collect the Important Paperwork
The number one way you can save yourself a headache on moving day is to ensure you have all of your car's documentation. You will need several documents to prove that the vehicle is yours. Keep originals and copies of the following documents together to ensure a smooth car shipping experience:
Proof of car insurance
Registration information
Your vehicle's original title
Your passport and/or driver's license
The car's bill of sale or another form of evidence that it belongs to you
Any other information you will need when you pick up the vehicle in your new country
Step Two: Clean and Remove Belongings
Washing your car before shipment will help you see any existing scratches or damage so that you can document them before shipping the vehicle. You will want to clean both the inside and the outside of the car before handing it off to your shipping company. In addition to helping you assess the damage, this step also makes shipping easier for the professionals and ensures you get the cleanest car possible when you arrive in your new country.
After cleaning, remove all belongings, including satnav devices, insurance information, chargers, toll tags, and anything else you may be storing in the vehicle.
You'll also want to remove items from the outside of your vehicle to avoid damage during transport. Remove items like custom spoilers, antennas, bicycle, ski, and luggage racks to keep them safe during your international move.
Step Three: Keep These Key Items in Your Car
Despite the previous tip, there are a few items you will want to keep in your car. Items like your spare tyre, car jack, license plate, and emergency kit will come in handy in the rare event that anything goes wrong along the journey. Keep them in your car to ensure the shipping professionals can handle any unforeseen issues that arise in transit.
Step Four: Record Any Existing Damage
After you wash your vehicle and remove your belongings, you will want to take clear images to document existing damage. Record any dents, scratches, faded or chipped paint, and then take good pictures of the entire vehicle. Before handing your car over, you'll also want to note its current mileage.
The images you take will help you assess the car's condition when you pick it up in your new country. They will also be useful in the unlikely event that your vehicle is damaged during the shipping process.
Step Five: Ensure You Are up to Date on Maintenance
Making sure your car is functioning well will help your shipping process run smoothly. You'll want to resolve maintenance issues and perform any necessary repairs before shipping the vehicle. Make sure all fluids, tyre pressure, and battery charge are topped up, and there are no leaks.
If your car is inoperable, you will need to inform your shipping company, as vehicles need to be driven on and off of the vessel for transport. If the company has to use additional machinery to secure your car onto the shipping vessel, you may have to pay an additional fee.
Step Six: Leave the Tank Around a Quarter Full
You don't need a full tank of fuel to ship your car, but you won't want to leave it on empty either. A good rule of thumb is to leave the tank one-quarter of the way full. This ensures there is enough fuel to get the vehicle on and off the shipping vessel and drive it away when you arrive in your new country.
Step Seven: Exchange Keys and Lock Up
Your shipping company may require a set of your keys in case they need to move your vehicle during the shipment process. However, you should not give them your only set. Make sure you have a copy of the keys to guarantee a smooth hand-over when your car arrives at your destination. After the company drives your vehicle onto the shipping vessel, have them lock it, or do so yourself, for additional protection during shipment.
Step Eight: Complete Legal Paperwork Before Shipping
The last step is to fill out the legal paperwork involved with shipping a vehicle overseas and sign the bill of lading. Your shipping company will help you complete these steps correctly. The bill of lading includes the car's departure and arrival locations, its condition and issues, and the terms and conditions involved with the shipping process. Read this contract thoroughly, sign the bill, and keep a copy for your records.
---
Autoshippers has decades of experience transporting vehicles overseas. Whether you're shipping your family car or moving a classic automobile, we are here to ensure the process goes as smoothly as possible. If you're in search of the best RoRo car shipping or container car shipping to ship a car abroad, reach out, give us a call or visit our website to book your service today.