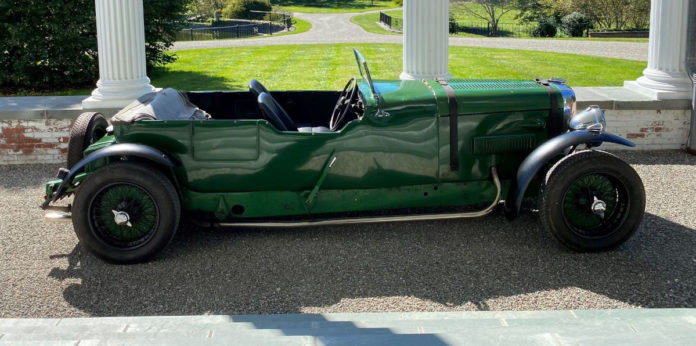 Family heirlooms appear on the Antiques Roadshow all the time, a watch, a broach or maybe a piece of furniture. But I think that we may have found a family heirloom that trumps them all. How about a 1940 Lagonda V12? Autoshippers were asked to export this superb car with an amazing family history to the USA for the next chapter of their story, and what a chapter it turned out to be!
The Family Heirloom
Bought new, the original owner of this classic car was so taken with it that he wanted it kept in the family, so when he sadly passed away the Lagonda was bequeathed to his son who, again wanting this piece of automobile history to remain within the family, passed it down to his son.
Sadly, the latest owner in the family passed away without a son to inherit the family's beloved Lagonda but he did have a nephew to whom he could hand it down to. The problem here is that his nephew lives in the USA. This is where Autoshippers join the story of this vehicle and its amazing family history. Classic car shipping is our forte and we do love a good story attached to our customer's beloved vehicles.
Lagonda
Founded in Staines, Middlesex in the UK in 1906 by a former opera singer, The Lagonda company launched their first car in 1907. After winning the prestigious Moscow-St Petersburg trial of 1910 helped boost export sales (especially to Russia) which continued until the beginning of the First World War in 1914, during which the Lagonda company made artillery shells.
After WW1, production switched back to cars, and the company saw some success with their innovative and versatile designs. In 1935, the M45R Rapide which was a version of the six-cylinder, 4.5-litre M45 with a shorter chassis, won the 13th Le Mans 24 hour race driven by the British driving duo of Johnny Hindmarsh and Luis Fontes. Despite this success, and being known for producing limousines fit for royalty, the receiver was called in later in 1935.
At this point, Lagona was bought by Alan P Good, who narrowly outbid Rolls-Royce, and he brought in some of the talented design team from Rolls-Royce to help resurrect the company and continue producing luxury cars and it was this team that engineered the Lagonda V12.
Lagonda V12
First produced in 1938, the Lagonda V12 model featured a 4480cc V12 engine that was capable of 180 bhp at 5,500 rpm and was one of only a handful of 1930s road cars capable of exceeding 100mph. The engine, with a four-speed manual gearbox, had a combined cylinder block and an upper crankcase which was cast iron. Two modified Lagonda V12s were entered into the 1939 Le Mans and they managed to finish 3rd and 4th.
Sadly, production ended after only 189 were built when the Second World War stopped the Lagonda company from producing cars, turning their attention to producing guns, shells and flamethrowers for the British Army.
Aston Martin
1947 brought with it another change in ownership, and The Lagonda Company was taken over by David Brown who moved production to Feltham in Middlesex along with his other recent purchase, Aston Martin. Production under the Lagonda name then continued in fits and starts, most notably with the Aston Martin Lagonda which was manufactured between 1974 and 1990 with the then-innovative wedge-shaped series 2 V8 launching in 1976 and being produced until 1985.
In 2014, Aston Martin then launched the Taraf, which is a luxury four-door saloon limited to only 200 vehicles and originally only to be available in the Middle East. In fact, only 120 were produced and were up for sale in the UK and US markets at a price of £1 million each. Despite initial plans to resurrect the Lagonda name for an all-electric sedan in 2025, it now sadly seems that the Lagonda name won't be attached to this Aston Martin project.
Exporting a 1940 Lagonda V12 to the USA
When it comes to classic car shipping, Autoshippers are your best bet. We have been exporting our customer's cars, motorbikes and anything else on wheels for over 20 years. We have various options at our disposal to ship your car, ranging from shared RRAK or dedicated container to the specialist vehicle carrying RO/RO service.
For this beautiful example of British engineering, we enlisted a covered transporter to collect and dispatch to the UK shipping port, and from there we booked on a specialist RO/RO (Roll-on, Roll-off) shipping vessel to the USA. Vehicles are literally driven on in the UK port and driven off at the destination port, and this method of car shipping is used by car manufacturers all over the world for safe and secure transport of new vehicles.
The Final Mile
Usually, in these articles, we would now leave you with a quick arrival photograph showing the vehicle in question being happily received at its country of destination. In this case, however, there is a little more to say when it comes to this 1940 Lagonda V12.
This classic car arrived in the port at New York at roughly the same time as the remnants of Hurricane Ida which brought downpours that caused heavy flooding and much disruption. We will let the new owner take up the story from here on in….
"We got down to the port at around 8 AM and the customs people were really helpful as they went above and beyond to get the car out of there before the eye of the storm.
"We filled up the tank and departed north, 100 miles to the small town of Millbrook. It was truly terrifying, the rain was coming down like the heavens had opened, and we were suffering the consequence as we were getting awfully wet. "
"As we approached The Bear Mountain Bridge, I said to my partner in crime, The Driver, we have to slow down. We were about to go down the mountain's twisting roads, it was slippery on the cliff, and you could see the river down below. He replied "Gotcha" as we went down the hill cautiously. Out of thin air a massive tree fell across the road cutting it off completely, I shouted "tree!" and he slammed on the brakes as the car started to slide and stopped 3 inches away from the tree. We both looked at each other and agreed; "we need another route."
"That was the lowest part of the trip…."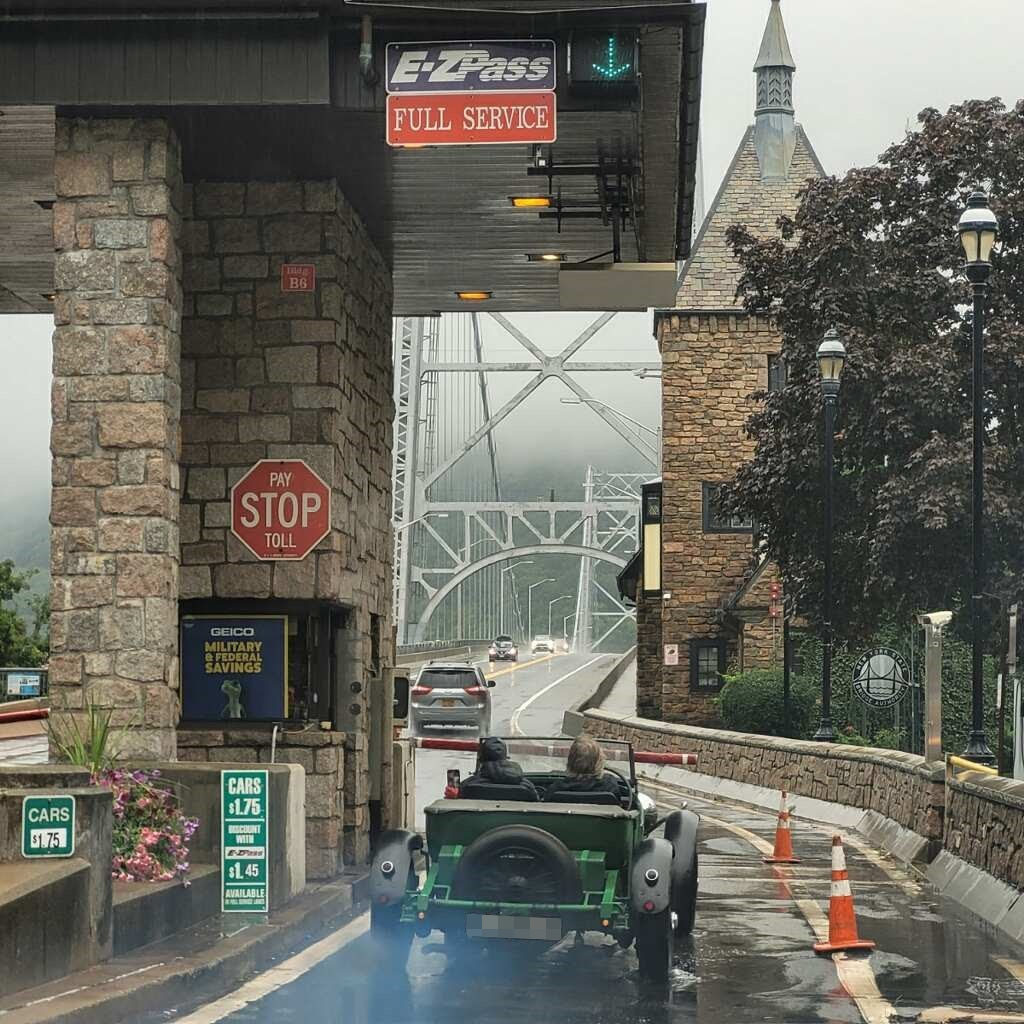 "In shock, we found another route up 'Snake Hill Road!!!' She made it and we landed home safe and sound. I want to say thank you Mark (at Autoshippers) you were absolutely amazing and you put up with all my phone calls. I couldn't have done it without you, thank you so so much."
Autoshippers
At Autoshippers we are so pleased that we have been allowed to be a part of the story of this historic car and the family that has owned it since new. The final drive, being chased by a horrendous storm, shows how much gumption this classic car and her new owners have. Long may she remain in the family to be enjoyed by generations to come.
If you'd like more details of the services that we can offer for car shipping to the USA and other destinations across the globe, then just take a look at our website. We even have a US import guide that may cover some questions that you may have, and a blog explaining the 25-year rule.
If you have a specific enquiry regarding the shipping of a particular vehicle then feel free to give us a call on 0800 389 0784 / +44 117 982 8123 or fill out our contact form and we'll be happy to help.
For pricing, please fill out our quotation form on our website for a free, no-obligation quote and our sales team will respond back immediately.