Car Shipping South Africa
Auto Shippers International Car Shipping to South Africa
At Auto Shippers we ship cars to South Africa on weekly scheduled services direct from the UK and ship with the worlds premier shipping lines using specialist Roll on Roll off (Ro Ro) car shipping vessels or securely loaded to 20' and 40' containers for shipping weekly via our container shipping services.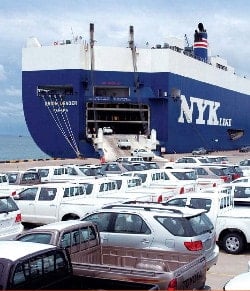 Now proven to be the safest system for shipping cars overseas, the new R-Rack system allows us to ship more frequently to South Africa at a lower cost, letting us set very competitive prices and giving you peace of mind that your car will arive safely.
We operate container loading facilities at all UK ports and can arrange for your car to be collected, delivered to the port of departure and shipped by RoRo or Container to all main ports in South Africa.
Our fast weekly sailings operate directly from the UK and serve all main South African ports including; Cape Town, Durban, Port Elizabeth and East London. Through our trusted agents in South Africa we help with clearing your car through customs and arranging for your car to be delivered to destinations including Johannesburg or Pretoria.
For a South African car shipping quote and details of shipping costs please use our form on the left. You can also call FREE 0800 3890784 or contact us here.
Members of The British International Freight Association (BIFA)
As fully accredited members of the British International Freight Association (BIFA) we offer specialist marine car shipping insurance cover underwritten Royal and Sun Alliance for that added peace of mind. Based at one of Europe's busiest car shipping terminals in Bristol, all our staff are seasoned professionals with a wealth of experience in all aspects of transporting vehicles to South Africa for our private clients. From classic and vintage cars to premier marques, BMW, Mercedes and Jaguar or just the family saloon you can rely on Autoshippers to ensure the safe shipping of your car to South Africa.
We are also pleased to provide a detailed South African car shipping and import guide covering all aspects of shipping your car to South Africa. Information includes everything from what to do before you go to customs regulations on arrival and what to expect at destination.
You can find our South Africa car import and customs guide and fact sheet here.
How much does it cost to ship a car to South Africa?
See below for indicative car shipping costs for the major South African destinations. Rates are current at the time of writing but may vary depending on the exact destination and vehicle dimensions. Please check with us prior to booking.
Rates are port to port shipping only, and exclude any import duties and taxes if applicable. The table assumes delivery to the port or container station and therefore does not include any collection costs nor loading/discharge costs or redelivery to your home address at destination.
To get the full picture and all the relevant associated costs, please give us further information on the make and model of your car, shipping date and value and we will reply with the exact costs for shipping your car to South Africa. Please complete the online quote form on this page. Thank you.
Important news on RoRo shipping costs: Although these RoRo services are cheaper, they are currently very intermittent with sailings only every 4 or 5 weeks from the UK. Please check with us for up to date sailing schedules before you book your vehicle.
Car Shipping Costs UK to South Africa

| Vehicle Type | Destination | Shipping Costs / Prices |
| --- | --- | --- |
| Family car (Audi A3) | Durban (Ro Ro) | £730.00 |
| SUV / 4x4 (Land Rover) | Durban (Ro Ro) | £820.00 |
| Family car (Audi A3) | Durban (Ro Ro) | £915.00 |
| SUV / 4x4 (Land Rover) | Durban (Ro Ro) | £1,155.00 |
| Family car (Audi A3) | Durban (20' Container) | £973.00 |
| SUV / 4x4 (Land Rover) | Durban (20' Container) | £973.00 |
| Family car (Audi A3) | Durban (R-Rak) | £850.00 |
| SUV / 4x4 (Land Rover) | Durban (R-Rak) | £1080.00 |
| Family car (Audi A3) | Cape Town (20' Container) | £973.00 |
| SUV / 4x4 (Land Rover) | Cape Town (20' Container) | £973.00 |
| Family car (Audi A3) | Cape Town (R-Rak) | £850.00 |
| SUV / 4x4 (Land Rover) | Cape Town (R-Rak) | £1080.00 |
| Family car (Audi A3) | Port Elizabeth (Ro Ro) | £915.00 |
| SUV / 4x4 (Land Rover) | Port Elizabeth (Ro Ro) | £1,155.00 |
| Family car (Audi A3) | Port Elizabeth (20' Container) | £973.00 |
| SUV / 4x4 (Land Rover) | Port Elizabeth (20' Container) | £973.00 |
| Family car (Audi A3) | Johannesburg (20' Container) | £1,348.00 |
| SUV / 4x4 (Land Rover) | Johannesburg (20' Container) | £1,348.00 |