Q: When is a sports car not a sports car? A: When it's essentially a VW Beetle given a stylish, sexy makeover to appeal to more "discerning" (read: better-heeled) car buyers.
With a top speed – in its final, most powerful incarnation – of just 93mph (150 km/h), the Volkswagen Karmann Ghia may not have been the fastest thing on four wheels, but it was certainly a head-turner. Which is no doubt why the car was changed very little during its 19-year production run from 1955 to 1974… if you're shifting over 455,000 units of something, it's probably not broken, so Volkswagen very wisely decided not to fix it.
History
The Volkswagen Beetle is one of the most iconic cars of all time, but during the post-war boom years, Wilhelm Karmann spotted potential for VW to expand its market even more. He was heir to the Karmann coachbuilding empire: the company already built Beetle bodies, but Wilhelm decided there was a gap in the market for buyers who wanted something a little more sporty-looking.
Other family/board members weren't so sure, though, so Karmann teamed up with another car body designer, Luigi Segre of Italian firm Carrozzeria Ghia. Together they came up with the idea of, essentially, putting a Beetle chassis and engine inside a sports car-like body, and the Karmann Ghia was born.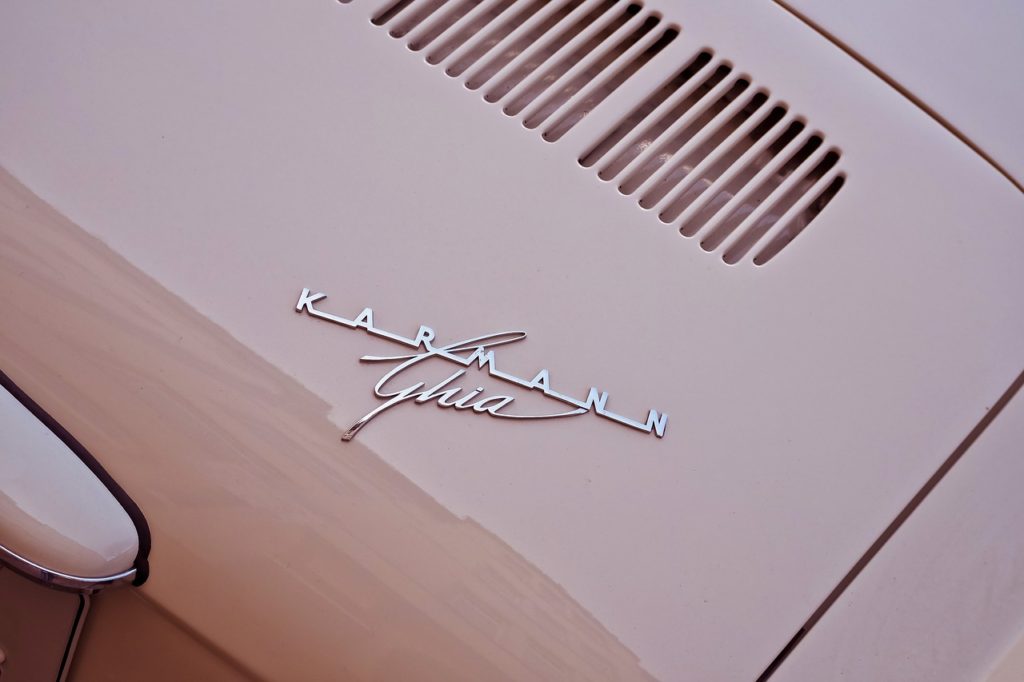 That's the short version, anyway. In actual fact, the pair had help from a number of other designers, all of whom have, at different times, claimed the Karmann Ghia as their own. The exact history of who did what is thus shrouded in mystery, but regardless of the finer details, they eventually presented their new baby to Volkswagen, who gave it the go-ahead in the hope that a "halo product" – a top-of-the-range item which covers the rest of a company's range in reflected glory – would be just the thing to boost sales.
Suffice to say, it worked! The Karmann Ghia made its debut at the Paris and Frankfurt motor shows in 1955, and Volkswagen took 10,000 orders in Germany alone that first year. The car was initially available only as a two-door coupé, but a convertible option was added to the range in 1957.
Over the years, the engine would be upgraded several times: the 1.2L engine in the launch car was gradually increased to 1.3L in 1965, 1.5L in 1967 and to 1.6L in 1972, which is when it finally hit that blistering 93mph. Other than that the car remained largely unchanged, though in 1961 the basic Type 14 model was joined in VW's range by the Type 34, which had a larger (1.5L) engine and was based not on the Beetle but the Volkswagen Type 3. There was also the Karmann Ghia TC, which was essentially a Type 14 but with a Type 3 engine. That model, however, was only ever made in Brazil for the South American market.
Production eventually ceased in 1975, when the Karmann Ghia was replaced by the VW Scirocco.
Racing and Other Pastimes
Racing?! We refer you back to that two-figure top speed: the Karmann Ghia might have looked like a sports car, but VW never actually marketed it as such, and the race track was never going to be its natural home.
Movies, though, are another matter. The Karmann Ghia's sleek good looks have seen it appearing on the silver screen over 400 times, according to the Internet Movie Cars Database, including a starring role in cult 1986 movie 'Pretty In Pink'.
Want One?
With nearly half a million sold, Karmann Ghia's aren't especially hard to come by, nor horrifyingly expensive – in fact, in 2016 finance website Bloomberg declared it "a great starter classic car" for that very reason.
At the time of writing, the cheapest (running) model we could find online had an asking price of just £9,116, while the most expensive was going for nearly £45K. Most, though, seem to fetch somewhere in the £15-£25K range, which for a classic car is very reasonable. Just look out for rust, particularly around the doors.
The team at Autoshippers had the pleasure of shipping a black Karmann Ghia to Malta as shown below.
If you're shipping a car, whether it be a classic car or your family car, get in touch with Autoshippers today or complete our quick, no-obligation quote here.