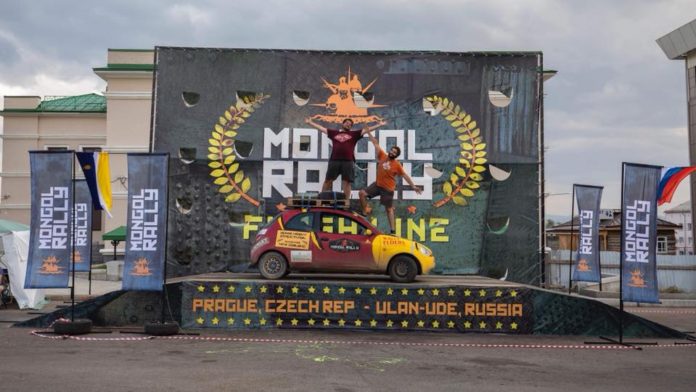 Here at AutoShippers, we handle all kinds of vehicles: top-of-the-range sports cars, vintage classics, countless family runarounds and even the odd bus or tractor. But until recently, never a Ford KA with a wooden pallet bolted to the roof!
Buzzy KA – as said vehicle is affectionately known – is unlikely to take home the Best In Show gong at any car rallies. But it does prove the adage that not all superheroes wear capes…
The Buzz Begins
Buzzy KA's story begins in early 2018, when friends Alex Denby and David Burr from New Zealand decided to raise money for two of their favourite causes – YouthLine, a mental health charity, and Cool Earth, which campaigns to protect rainforests – by entering the Mongol Rally.
One of the most gruelling motor races on Earth, the Mongol Rally sees teams of 2-4 racing from Europe to Mongolia (though the race actually finishes in Ulan Ude, just across the Russian border). Only sub-1L vehicles can enter, and no support systems are allowed: the teams are on their own as they travel over 10,000 miles on some of the world's least hospitable roads. Which is why, out of the 250-300 teams to enter each year, only around 70 per cent finish!
Their decision made, David and Alex bought a secondhand Ford KA for £310, kitting it out with a new paint job, the aforementioned wooden roof rack and the plastic bee mascot that gave it its name. Departing from Goodwood on 1 July, the pair eventually arrived in UIan Ude – numerous running repairs and umpteen fraught border crossings later – on 24 August.
Along the way, they'd visited Slovenia's Postjona caves, befriended a Bosnian postman, driven two of the world's most famous roads (Romania's Transfargarasa and central Asia's Pamir Highway), been monitored by the Turkmenistan government and repurposed a headrest as a shock absorber. There's a full blow-by-blow account of their adventures on their Facebook page.
If you're shipping a car, whether it be a classic or family car, get in touch today or get a quick quote here.