Think of classic Italian motors, and it's most likely names like Ferrari or Maserati that spring to mind. But arguably just as iconic, and just as symbolic of the Italian way of life, is the humble Piaggio Ape – an affordable light commercial vehicle that's now been in production non-stop for over 70 years, and which is in ever-increasing demand both among collectors, and among hipsters looking to convert the scooter-based tuktuk into mobile coffee stalls and the like.
We've recently had the privilege of shipping a Piaggio Ape to California, USA. One of many that we've shipped over the years.
We understand the customer will be doing a full refurbishment and this little Italian classic will likely have a new life as a mobile coffee shop.
Here's some interesting information on the history behind the Piaggio Ape and how much you could expect to pay to buy one, both before and after conversions.
History
The Piaggio Ape has its origins in Italy's defeat by the Allies in World War II. Italy was prohibited from developing aerospace technology for 10 years – which might have spelled the end for Italian aviation company Piaggio had one of their chief designers, Corradino d'Ascanio, not come up with the idea of building a cheap but robust motor scooter, inspired by the Cushman scooters used by the occupying US armed forces, to provide Italians with an accessible means of transport.
His idea was first taken up by a businessman called Ferdinando Innocenti, and together they came up with the Lambretta scooter. But after a dispute over design, d'Ascanio returned to his former employers Piaggio, and the Vespa scooter was born. The first Vespa rolled off the production line in 1946, and two years later it was followed by the Ape, which was essentially a Vespa with two rear wheels instead of one, enabling the construction of a flat-bed structure above the rear axle to carry goods and passengers.
Incredibly, that same fundamental design is still in use today, over seven decades on – although naturally there have been many tweaks and improvements to both the engine design and the body over the years. The original Apes (1948-52) had just a 125cc engine; that increased to 150cc (1952), then 175cc (1964), and then finally, since 1982, to 218cc (with 422cc diesel variants also available). Electric start arrived in the late 50s, along with the first enclosed cab; a heater was added in the mid-60s. Current models feature either a 200cc petrol or 435cc diesel engine.
Slightly more esoteric models have included the Ape Pentarò (1960-68), which has a semi-trailer rather than a rigid body, and the four-wheeled Ape Poker (1993-2005).
What Are They Used For?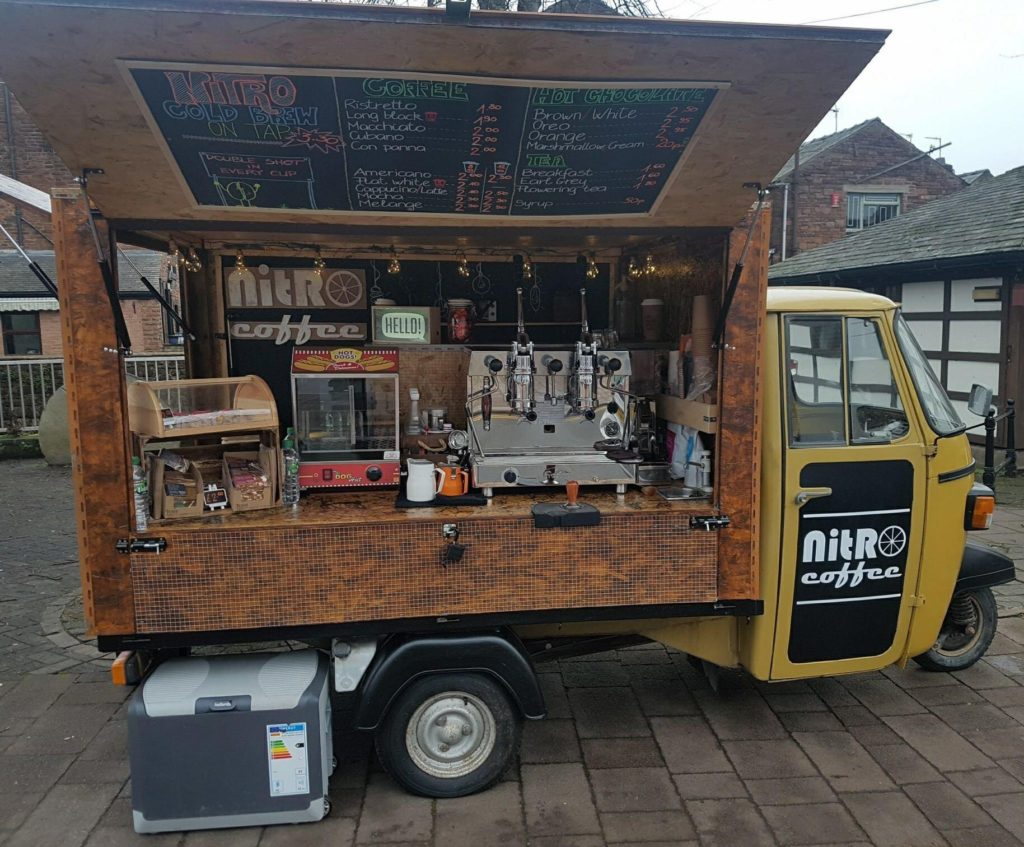 The Ape was originally built with entirely practical uses in mind, such as enabling farmers to carry goods to market easily (and to navigate narrow Italian streets), and the vehicle is still widely used for such purposes today, particularly in developing economies such as India, Indonesia or in South America. With doors both sides and a high-torque motor that makes climbing hills painless, it's also ideal for use as a delivery vehicle, or for passenger transport (an 'auto rickshaw'), a particularly common use in the Far East.
In recent years, though, the Ape has found a new lease of life, with the boom in festival culture and the hipster 'upcycling' trend seeing thousands of the unassuming little vans being repurposed as coffee, burger or prosecco stalls, and it's largely this that's driving the booming secondhand market in Europe.
How to Get Your Hands on One..
Today, prices for secondhand Apes vary considerably. You may get lucky and stumble across a vintage model as a 'barn find', a previously neglected relic that's turned up in someone's barn or garage and that's likely to need a fair bit of work to restore it to its former glory – in that case, you might get away with paying as little as £1,000.
Alternatively, if you see yourself as a roving prosecco queen but don't really fancy ruining your nails with engine oil, a fully restored Ape that's already been repurposed to a high standard will set you back a more considerable sum nudging towards five figures. And naturally, depending on the year and condition you can pay pretty much any amount of money you like between those extremes.
Or, of course, you could always buy new, with current prices starting at around £6,500, and Piaggio's sister company Mobile Retail specialising in bespoke conversions for use as food vans, mobile libraries, mobile bars, ice cream wagons and more. Indeed, many big-name brands from Walls to Stella Artois are now using Apes as a marketing gimmick – although we can't help feeling it'd be much more fun doing the conversion yourself. With such a simple basic design that's proved itself so reliable and adaptable over the years, the only real limit is your imagination!
We hope you enjoyed our Closer Look at the Piaggio Ape! Keep an eye out for more on our blog or check out the rest of our interesting shipments series.
If you are exporting a classic such as this Piaggio Ape from the UK, you may be interested in our car shipping services! Regular departures to most major destinations worldwide, including the USA, Canada, Australia, New Zealand and more. Get a free quote today.