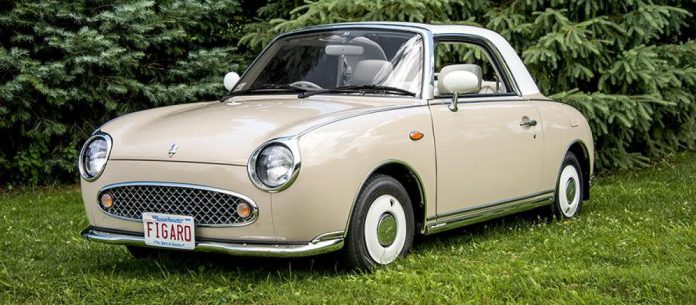 Eye-catching Retro runabout the Nissan Figaro is possibly the last car you would expect to prove a hit in the United States.
With a reputation for running Highway-hogging Muscle Cars – the pastel painted Figaros aren't likely to feature in the latest Fast and Furious movie any time soon, yet the quirky convertible is being exported in increasing numbers to enthusiasts in America. But why the recent boost in popularity?
Originally released in 1991, the Nissan Figaro is growing ever more popular among retro car enthusiasts, sellers and collectors in the States due to it now being old enough to pass stringent US import regulations without requiring extensive modifications.
A few years prior, regulations would have prevented many from importing a Figaro to the states due to the high costs involved in modifying the vehicle to comply with regulatory standards.
Now that the Figaro is exempt from these regulations, US residents can pick them up fairly cheap in the UK to have them shipped back to their hometown – and the fact so few of them are on the road makes them a real head-turner in the States!
Nissan only built 20,000 of these models, which is perhaps why they come fully kitted with leather seats, air conditioning, a CD player and a fixed-profile slide-back open roof [more info: Wikipedia]. This high spec means the Figaro is in great demand as an export vehicle that requires little to no modifications.
If you'd like to get your hands on one of these quirky classics, The Figaro Shop is a good place to start. They offer worldwide parts delivery, making maintenance much easier for those living abroad.
Also, check out the Nissan US Owners club on Facebook for some great info on the topic and to find other owners and enthusiasts out there!
For a FREE quote to ship your Figaro overseas, use the quick quote form on this page.
To read more about regulations and services provided, visit our Nissan Figaro car shipping page.