Here at Autoshippers, we handle plenty of classic cars from the 1940s, 50s, 60s and 70s, but shipping much older models is a slightly rarer pleasure. So we were delighted to be entrusted with transporting a 1929 MG M-type to Baltimore from its current home in the south of England. It's not every day, after all, that you get to see a genuine piece of motoring history like that up close and personal!
Manufactured by the MG Car Company Ltd between 1929 and 1932, the M-type was the first genuine UK sports car to fall within the average buyer's price range. It was also the first of several Morris cars to bear the 'Midget' name, a moniker which would also be applied to the company's D-type, J-type and (most notably) T-type cars in the 1930s, 40s and 50s, prior to the launch of the 'official' MG Midget in 1961.
History
The MG M-type was first seen at the London Motor Show in 1928, and went into full production the following year. The car had the same chassis as the original Morris Minor – not the hugely popular family car sold between 1953 and 1971 which we've written about before, but the 850cc car of the same name made from 1928-1934 – but with a fabric-covered or metal-shelled boat-tailed body built by Coventry coachbuilders Carbodies, and lowered suspension. Underneath the hood was the same 20bhp four-cylinder overhead camshaft engine found in the Wolseley Ten, which gave it a top speed of 65mph.
In 1930, the Double Twelve 24-hour race at Brooklands saw the Team Prize go to the M-type, which boosted sales, and an upgrade that same year saw a power boost to 127bhp, a shift from a three- to a four-speed gearbox and the replacement of the rod braking system with cable brakes. In 1932, a supercharged version that could reach a dizzying 80mph was launched, while for anyone with deep pockets and their heart set on owning a truly exclusive vehicle, 1930 also saw a run of just 30 'Double Twelve Replica' models, which featured many of the same body modifications (such as narrower bodywork and deeper cutaways for the doors) that made the race team so successful. Good luck hunting one of those down, though!
How to Get Your Hands on One..
The bad news is that this is one car you're unlikely to stumble across as a "barn find" or similar. There are two reasons for this.
Firstly, unlike (say) the original Mini or VW Beetle, or the Raleigh Chopper bicycle, the M-type never went through the familiar trajectory of being hot property for a while and then being seen as "a bit naff" for many years, before later experiencing a resurgence of interest that suddenly confers upon it "iconic" or "classic" status. The M-type has instead been hot property ever since it first rolled off the production line because, well, just look at the damn thing!
Secondly, only 3,325 M-types were ever produced in total. Compare that to a huge seller like the Model T Ford, for instance: there was a point in American history when the landscape was liberally dotted with the rusting hulks of Model T's, and that was simply never the case for the M-type.
Accordingly, you're going to need to shell out if you want to own this most influential of vehicles. The car we recently shipped was an original 1929 model, and would have cost £175 when it was brand new: if you want to buy one now, then you can expect to pay anywhere from £15,000 to £28,000, with the average in the high teens. As ever, condition and mileage are all-important when it comes to market value, as is the degree and quality of any restoration work that's been carried out.
Luckily for our particular car's new owner, he won't have to pay anything like that, because the car's already in the family. It's been in the hands of its current owner since 1981, but now it needs some work and so she's gifting it to her son in America who intends to restore the vehicle to its former glories. We wish him the very best of luck with the restoration project, and many happy hours of motoring pleasure once it's complete!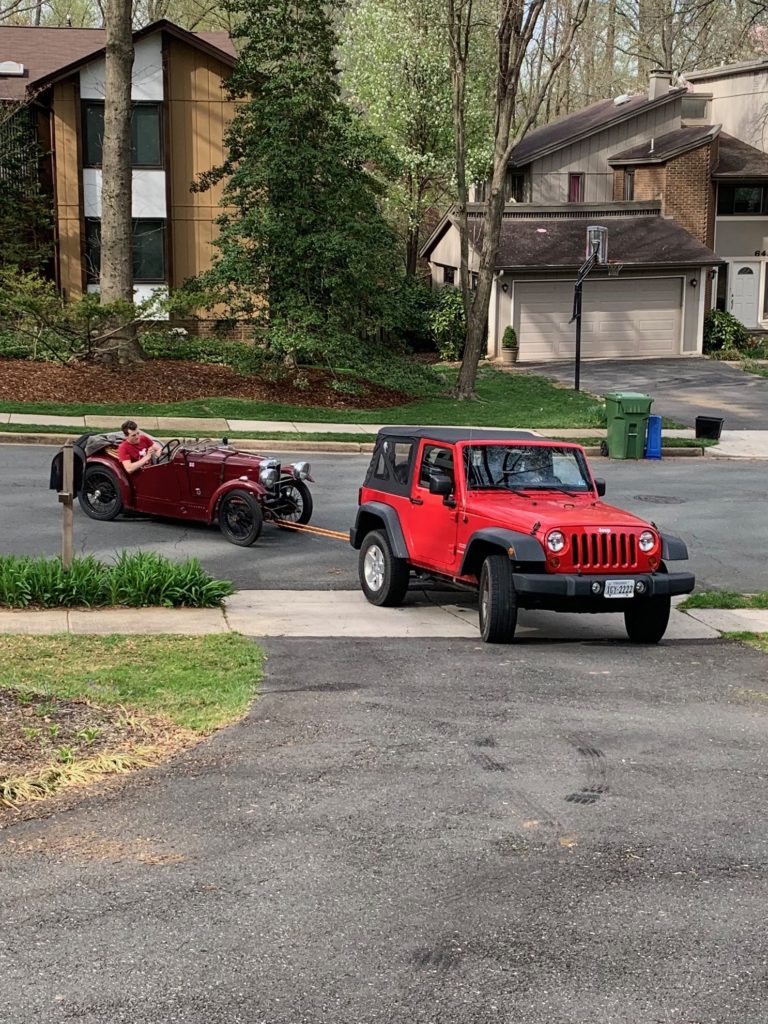 Here are a few other MG models shipped by us over the years!
We hope you enjoyed our Closer Look at the MG M-type! Keep an eye out for more on our blog or check out the rest of our interesting shipments series. And of course, if you're shipping a car (whether it be a classic or family car) get in touch today or get a quick quote here.