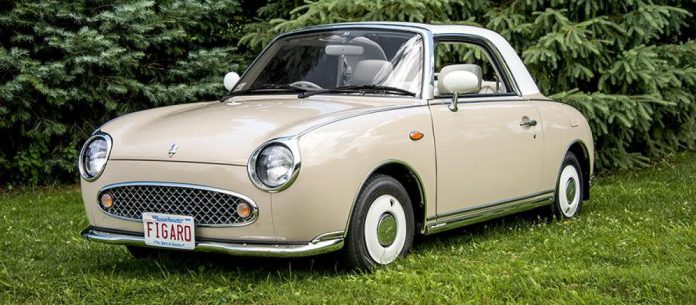 Along with the Land Rover Defender, the Nissan Figaro is one of the vehicles we're most commonly tasked with shipping to the USA. That's because both are eligible for import to America under the '25-year rule'.
This legal exemption allows classic vehicles to be imported regardless of whether or not they match up to current safety and emissions standards. In contrast, non-conforming cars under 25 years old cannot legally be imported, and if you try to sneak one in it's likely to be impounded and destroyed.
We've written previously about importing Defenders, so today we'll take a look at the Figaro: arguably one of the most unlikely collectable cars of all time. Why unlikely? Because while the Figaro might look like an Italian sports car from the 1950s, it's really just a Nissan Micra wearing a posh…
History
First seen at the Tokyo Motor Show in 1989, and sold only in the 1991 model year, this fixed-profile convertible – only the roof's central section retracts – was, along with the Pao, Be-1 and S-Cargo, one of four Nissan's 'Pike cars'. Built at the Pike Factory, these vehicles attempted to fuse Japanese cars' famed reliability with the elegant, forward-thinking design of its electronics industry.
Based on the chassis of a Nissan Micra (AKA Nissan March), the Figaro was only ever sold in Japan, where competition for the 20,000 built was so fierce that a lottery system had to be introduced. It may have had only a 1.0L engine and a three-speed auto transmission, but its quirky, retro good looks soon attracted the attention of car collectors. Eric Clapton was an early fan, while other famous 'Figgy' lovers include TV presenters Vanessa Feltz and Jonathan Ross, and musicians Fran Healy (Travis), Betty Boo and Chris Rea – though whether the latter ever actually drove home for Christmas in one isn't clear!
The car didn't match up to US safety and emissions standards, however, and so until 2016, you couldn't import one. Since then, they've proved a huge hit with American buyers, and secondhand prices have been climbing steadily.
How to Buy and Ship a Nissan Figaro
The main thing to look out for if you're buying a Figaro is rust. This particularly applies if the car's been in Europe for a long time – as domestic Japanese models, they weren't really designed for our wetter climate!
Generally speaking, expect to pay in the region of £6,000-£9,000. Cars in one of the four factory colours (Pale Aqua, Topaz Mist, Emerald Green and Lapis Grey) tend to fetch more then resprayed vehicles, while the most collectable of all are the limited number that came with 'luxury' options such as a cupholder.
When you buy the car, you should be given a Bill of Sale and its logbook, or V5C form. We'll need copies of these to ship the car, while you'll need the originals to collect it from US Customs once it arrives. You'll need to decide at this stage whether you want to ship the car on a Ro-Ro or container ship – Ro-Ro's cheaper and often quicker, while containerised shipping costs a little more but offers greater protection in transit.
If you're buying remotely, we can collect the car on your behalf. We can't carry out vehicle inspections, but UK motoring organisations such as the AA and RAC can. You may also need to have the undercarriage cleaned before the car is shipped – we can put you in contact with garages at your port of departure that offer this service.
Once the car has been shipped, you'll get a Bill of Lading from us – this too will need to be presented at US Customs on collection, when you will also need to complete NHTSA form HS-7 and pay the relevant import duties.
And after that… it's time to get out on the roads and enjoy yourself! No-one could claim the Figaro was a "driver's car", admittedly, but you're sure to enjoy the attention it gets… it may only be a Nissan Micra in a posh frock, but what a frock that is!
Get in touch with Autoshippers today for a free quote to ship your car to the US or elsewhere.